Your Neighbors will Covet the Bright Shiny Gutters!
Mr. Sudsy takes gutter cleaning very seriously. Having bright, shiny, clean gutters will dramatically improve the look of your home and function of the rain gutters. We will happily remove leaves, sticks and whatever else is clogging them up. This will prevent damage to your roof that could cause major leaks and even damage to the exterior/interior of your home or business.
This Gutter Speaks for Itself!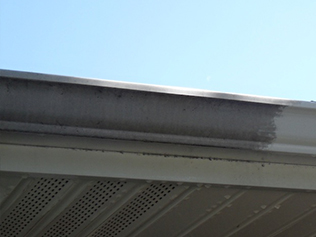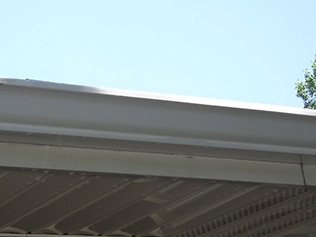 Mr. Sudsy is Proud of our Roof Cleaning Results!

Our formulas and techniques will completely transform your roof. We will gently and effectively remove algae, mold, dark spots, mildew and other unsightly roof stains. In many cases the homeowner expected to have to replace the roof but was delighted when Mr. Sudsy washed-away the problem at a fraction of the cost. Getting the gunk off the roof can also expand its life cycle. We would be honored to take a gander at your roof and see how we can help.
See the Difference in this Roof!